Color Management Settings¶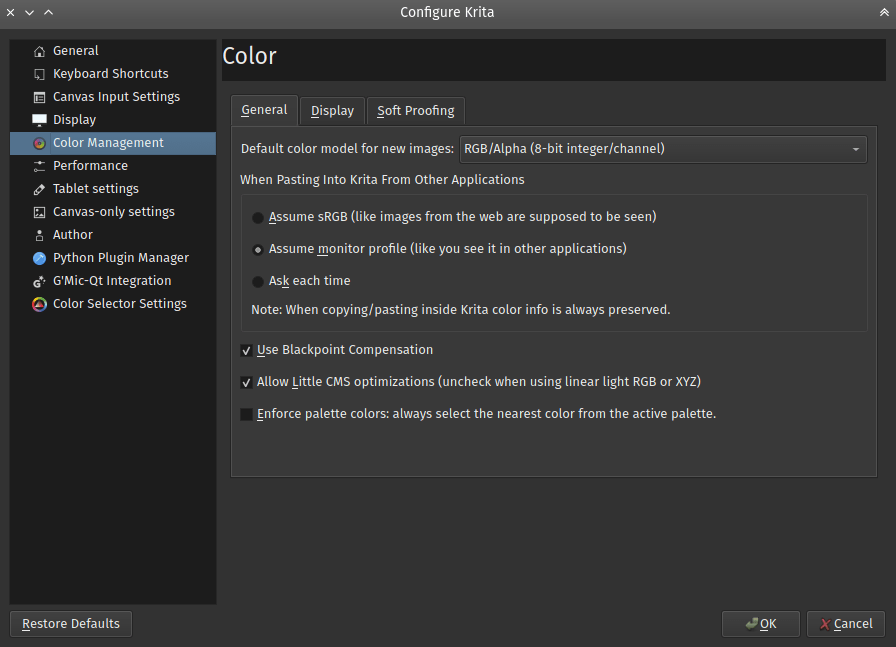 Krita offers extensive functionality for color management, utilising Little CMS We describe Color Management in a more overall level here: Color Managed Workflow.
Display¶
Use System Monitor Profile

This option when selected will tell Krita to use the ICC profile selected in your system preferences.

Screen Profiles

There are as many of these as you have screens connected. The user can select an ICC profile which Krita will use independent of the monitor profile set in system preferences. The default is sRGB built-in. On Unix systems, profile stored in $/usr/share/color/icc (system location) or $~/.local/share/color/icc (local location) will be proposed. Profile stored in Krita preference folder, $~/.local/share/krita/profiles will be visible only in Krita.

Rendering Intent

Your choice of rendering intents is a way of telling Littlecms how you want colors mapped from one color space to another. There are four options available, all are explained on the ICC profiles manual page.
Softproofing options¶
These allow you to configure the default softproofing options. To configure the actual softproofing for the current image, go to Image ‣ Image Properties ‣ Softproofing .
For indepth details about how to use softproofing, check out the page on softproofing.