Resources¶
Vector libraries¶
20+ Variety of Vector/Symbol Library Packs¶
Have your pick of a large selection of libraries in many styles, shapes and colors.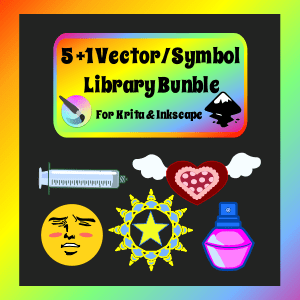 Composition templates¶
Inside the zip archive you'll find all composition templates separate and in a form of a vector library, so all the shapes are easy to access after the import.
The composition templates include: rule of thirds, golden ratio, golden spiral, golden triangle 1, golden triangle 2, harmonious triangle, film safe area template, baroque diagonal and centre.
Feather icons¶
A set of open source icons from https://feathericons.com but in a Vector Library form, so it can be easily accessed from inside Krita after the import. Each icon is designed on a 24x24 grid with an emphasis on simplicity, consistency, and flexibility.
Templates¶
Templates are .kra files that you can base your new documents on. To learn more see Templates:.
Storyboard template¶
The layout and layer setup is inspired by traditional Studio Ghibli storyboards, and Tony Gaddis' storyboarding process.
User-made Python Plugins¶
This list describes only plugins that are not available in Krita, so you need to download and install the ones you'd like to use.
See also
If you want to check descriptions of a plugin available in Krita by default (without a need to download), see Pre-installed Python plugins.
To learn how to install and manage your plugins, see Managing Python plugins.
If you want to know more about an individual plugin, you can access the plugin's manual by going to Settings ‣ Configure Krita… menu, and then choosing the Python Plugin Manager tab. Then you can click on a specific plugin and the manual will appear in the bottom text area.
Caution
Custom Python plugins are made by users of Krita and the Krita team does not guarantee that they work, that they are useful or that they are safe. Note that a Python plugin can do everything that Krita can do, which means for example access to your files. Krita team isn't responsible for any damage you might suffer from a custom plugin, this list is informational purposes only and you install any of the custom plugins on your own risk.
If you have information that any of the plugins below is dangerous for the user, please contact Krita team on kimageshop@kde.org.
Other resources¶
Krita Plugin Generator
Python auto-complete for text editors
If you have the Krita source code, you can use this Python script to generate the auto-complete file for Python. Many Python editors need a .py file to read for auto-complete information. This script reads the C++ header files from Krita's source code and creates a Python file that can be used for auto-completion.

Available here: https://github.com/scottpetrovic/krita-python-auto-complete
See Something We Missed?¶
Have a resource you made and want to share it with other artists? Let us know on Krita Artists or visit our chat channel to discuss getting the resource added to here.
Note
We have curated a list of community created resources for Krita. These resources will be hosted on external website, which is not under the control of Krita or KDE. Please report any error or corrections in the content to the Krita developers.