그라디언트¶
Accessing a Gradient¶
The Gradients configuration panel is accessed by clicking the Gradients icon (usually the icon next to the disk).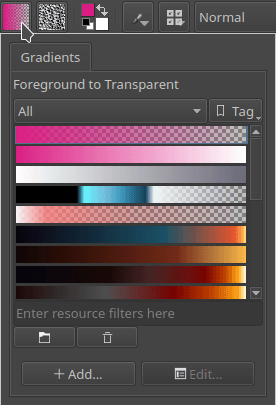 Gradients are configurations of blending between colors. Krita provides over a dozen preset dynamic gradients for you to choose from. In addition, you can design and save your own.
Some typical uses of gradients are:
Fill for vector shapes.

Gradient tool

As a source of color for the pixel brush.
There is no gradients docker. They can only be accessed through the gradient "quick-menu" in the toolbar.
Editing a Gradient¶
Krita has two gradient types:
Segmented Gradients, which are compatible with GIMP, have many different features but are also a bit complicated to make.

Stop Gradients, which are saved as SVG files and similar to how most applications do their gradients, but has less features than the segmented gradient.
Initially we could only make segmented gradients in Krita, but in 3.0.2 we can also make stop gradients.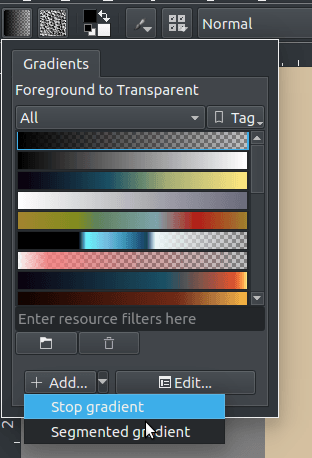 You can make a new gradient by going into the drop-down and selecting the gradient type you wish to have. By default Krita will make a stop-gradient.